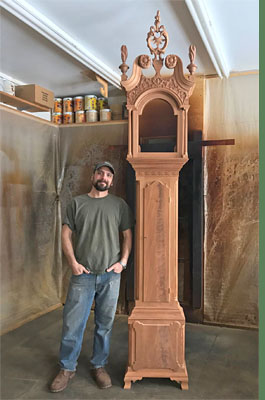 The E. Jacobsen Furniture Maker company was formed in 2002 after I had worked for seven years at the renowned Irion Company Furniture Makers. While building and restoring furniture, I tapped deeply into the knowledge and skills of fine furniture makers before me. It was a great opportunity to produce 18th Century reproduction American furniture at the quality level and authenticity that it deserves. I was trusted to build many of the company's most involved commissions including specialty carving.
My motivation in starting my own company came from a desire to become totally immersed in the full spectrum of skills that are demanded by this special body of furniture - from lumber procurement to the final finish. We mill and dry the majority of lumber we use. Construction, carving and finish are all completed on site. Total end-to-end control of the entire process has allowed us reach a level of quality in which we feel pride. Over the past 13 years we have succeeded in carefully building the company's facilities, lumber inventory, and processes to a high level of accomplishment.
After 20 years of building furniture, it is still a privilege recreating pieces that represent a uniquely American art form. My employees and knowledgeable suppliers share my enthusiasm for this furniture. But the continuing success of this business is possible only with the deep commitment of our knowledgeable and trusting clients. We listen carefully and understand that every client's needs are unique. Our work can be found across the country in private residences, decorator collections, and museums.
Whether you are looking for an exact reproduction, custom piece, or a live edge slab counter top, we have the resources and the knowledge to deliver and meet your expectations. We live and breathe building exceptional furniture.
Please visit our gallery page and the rest of our web site to see examples of our work. To learn more about our process of building high end furniture, visit the process page. Our Facebook page shows detailed photos of commissions in progress.
Please give us a call so we may get acquainted and see what we can do together.
Eric